Welcome on Board!
MEYER WERFT is hiring! Do you want to be part of a team that always achieves great things? Hop on board! We offer training in many different professions!
What can we offer you? An extensive, varied and challenging apprenticeship in an innovative environment with a nice mix of theory and practice.
What are we looking for? Team spirit, reliability and independence. You can find out more about apprenticeships at MEYER WERFT in our training film:
"My job is great fun and I have lots of room to develop"
Yannick Geib
Industrial mechanic in 3rd year of apprenticeship
"It makes me proud to work at such a huge shipyard and build vessels for international shipping companies".
Yannick Geib
Industrial mechanic in 3rd year of apprenticeship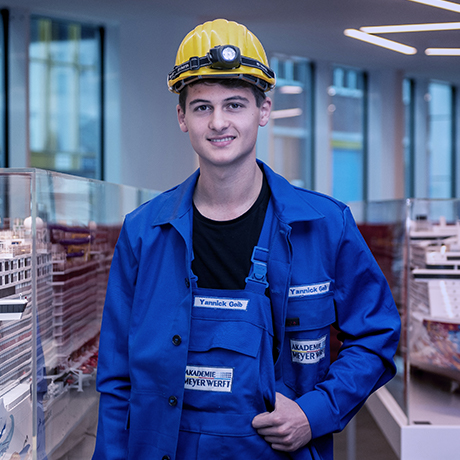 "Not many companies build ships as big as ours – we're pretty unique".
Yannick Geib
Industrial mechanic in 3rd year of apprenticeship
Frequently Asked Questions
How do I apply?
Please submit your application via the MEYER careers portal.
How does an online application work?
Submitting an online application via our careers portal is really not that difficult – just look for the right apprenticeship and click on "Apply Now".
This will open a window, where you'll be prompted to register or sign in with your log-in details. If you would like to register with us, please fill out all the fields and click on "Register".
Our application assistant will then guide you through the next steps. You can add further application documents, such as your cover letter and CV, on the "Attachments" page.
Once you've entered all the information, you can click on the "Submit Application" button on the last page.
Your application for an apprenticeship will then be sent to us. We'll send a quick confirmation of receipt to your email address before processing your application.
What should I include in my application?
Cover letter
Photo
CV in tabular form
A copy of your three most recent certificates
Is there an application deadline?
We don't have fixed application deadlines, but we start our selection process around one year before the start of apprenticeships. From this point forward, we constantly hire new apprentices until all training places are taken. You can see current vacancies on our careers portal.
Why do I have to apply online?
Online applications have many advantages: Firstly, our application assistant will guide you through each step to ensure that we receive all the information we need. Secondly, you can always check the current status of your application. And thirdly, we can process online applications submitted via the MEYER Group careers portal much faster than applications that reach us by post or email. This means you'll also get a quicker response.
All questions