Industrial Mechanic for Mechanical and Plant Engineering
If you train as an industrial mechanic for mechanical and plant engineering at MEYER WERFT, your apprenticeship will focus on the machinery at the heart of the ship. Our industrial mechanics are familiar with all sorts of machinery – from diesel engines to gas turbines. They commission, repair, deliver and test machines, plants and systems – on board and on assembly sites. They often work with other employees and our (international) customers, so they also need good English skills.
Who do we want on board?
You have a good high school leaving certificate + metal technology qualification from a vocational college or a qualification allowing you to study at a university of applied sciences (Fachhochschulreife) / A levels (Abitur)
You're interested in working with tools and machinery
You enjoy working with your hands
You demonstrate technical understanding and spatial intelligence
You're physically fit and resilient
"My job is great fun and I have lots of room to develop"
Yannick Geib
Industrial mechanic in 3rd year of apprenticeship
"Es macht mich stolz, auf so einer großen Werft zu arbeiten und Schiffe für internationale Reedereien zu bauen."
Yannick Geib
Industrial mechanic in 3rd year of apprenticeship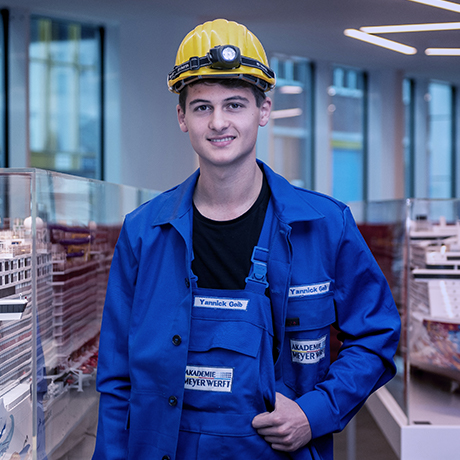 "Nicht jeder baut so große Schiffe wie wir, das ist schon ziemlich einzigartig."
Yannick Geib
Industrial mechanic in 3rd year of apprenticeship