Sales and Design
The main responsibility of Sales and Design is to generate new orders for the MEYER Group. This is where individual ship concepts are envisaged and developed, calculations are made, building specifications are created and offers are put together. Our team of sellers and designers also draft contractual documents in close collaboration with our customers and other departments at our shipyard.
The department is responsible for monitoring and analysing market developments, promoting the shipyard's public image, attending fairs, exhibitions and conferences, and collaborating with CLIA, EUROYARDS, Sea Europe and the IMO.
Our employees also work closely with their colleagues at MEYER TURKU and NEPTUN WERFT.
We have a wide variety of professionals in Sales and Design, including project engineers in the field of ship design.
"MEYER is like a big family to me. It's nice to come here every morning and know this is where I work".
Kendra Schulte
Project Engineer for Ship Design
"I come from the local area and used to watch in awe with my grandad as the huge ships were transferred along the River Ems".
Kendra Schulte
Project Engineer for Ship Design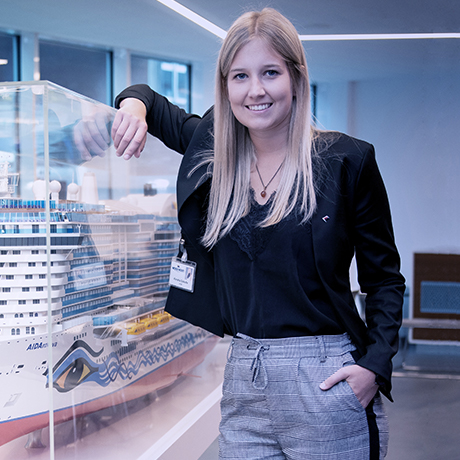 "I look forward to assuming more and more responsibility and perhaps even taking on a leadership role".
Kendra Schulte
Project Engineer for Ship Design